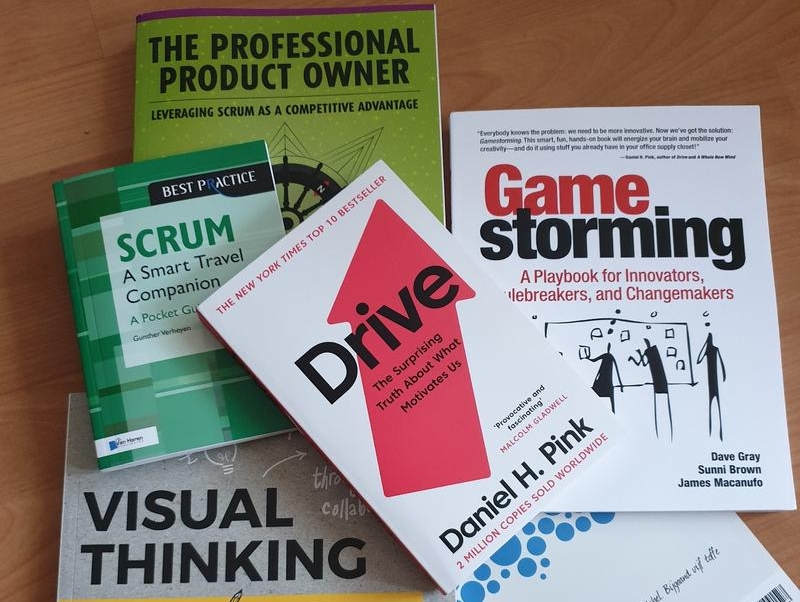 De volgende boeken heb ik de afgelopen jaren gelezen. Het lezen van boeken is voor mij een goede bron van kennis en inspiratie.
The 5 dysfunctions of a team – Patrick Lencioni
De bijenherder – Rini van Solingen
The tipping point – Malcolm Gladwell
Agile retrospectives – Esther Derby, Diana Larsen
Extreme ownership – Jocko Willink, Leif Babin
Radical candor – Kim Scott
Geweldloze communicatie – Marshall B. Rosenberg
Toolkit voor Agile leiders – Peter Koning
Scrum mastery – Geoff Watts
Product mastery – Geoff Watts
Team of teams (new rules of engagement for a complex world) – Stanley McChrystal
The dichotomy of leadership – Jocko willink, Leif Babin
Turn the ship around – L. David Marquet
The trusted advisor – David Maister, Charles Green, Robert Galford
The leader's guide to radical management – Stephen Denning
Start with why – Simon Sinek
The Phoenix project – Gene Kim, Kevin Behr, George Spafford
Agile – Rini van Solingen
Thinking fast and slow – Daniel Kahneman
A seat at the table – Mark Schwartz
Creativity, Inc. – Ed Catmull
Formule-X – Juriaan Kamer & Rini van Solingen
The DevOps Handbook – Gene Kim, Jez Humble & more
Leadership strategy and tactics (field manual) – Jocko Willink
Never split the difference – Chris Voss
The coaching habbit – Michael Bungay Stanier
Dare to lead – Brené Brown
The Nexus Framework – Kurt Bittner, Patrick Kong & more
The Product Samurai – Chris Lukassen
Drive – Daniel H. Pink
The Ideal Team Player – Patrick Lencioni
The Infinite Game – Simon Sinek
Alle boeken hadden voor mij toegevoegde waarde. ik begrijp dat je wel even bezig bent voordat je alles gelezen hebt. Ook zal je niet vanuit iedere rol dezelfde behoeften hebben. Hieronder per rol wat tips om mee te beginnen.
Scrum master: "Scrum mastery" en "The 5 dysfunctions of a team"
Product owner: "Product mastery" en "Start with why"
Agile leider / manager: "Creativity, Inc." en "Radical candor"
Heel veel leesplezier.